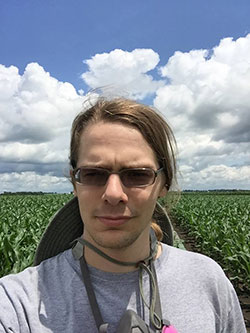 Ph.D Student, Department of Plant Biology
Email: cburrou2@illinois.edu
Education:
Ph.D, Plant Biology, expected 2020
Concentrations: Physiology, Air Pollution, Remote Sensing
University of Illinois at Champaign-Urbana
Certificate, Specialization in Biotechnology, 2014
St. Louis Community College, Florissant, MO 
Bachelor of Arts, Environmental Studies, 2012
Minor: Geology
Oberlin College, Oberlin, OH
Research:
The challenges presented by rising agricultural demand and climate change require improvements to crop plant productivity and yield along with improved abiotic stress tolerance. Two abiotic stressors, tropospheric ozone and elevated canopy temperature, are already reducing yields in vital crop plants and are projected to cause further damage in the near future. Better understanding of how these stressors reduce yield combined with rapid identification of tolerant genotypes are necessary in order to improve crop performance. Field trials using Free-Air Concentration Enrichment (FACE) technology and infrared heating arrays present excellent opportunities to observe the effects of these stressors under field conditions. My projects aim to characterize genetic variation in ozone response in maize and to improve understanding of how elevated canopy temperature affects soybean yield. The maize project will test an approach for rapid phenotyping of maize response to ozone and potentially identify genetic markers correlated with ozone response. The soybean project will distill the physiological and developmental mechanisms that contribute to seed yield losses at high temperature. Specifically, I will test the effects of elevated canopy temperature on soybean photosynthesis and respiration, vegetative and reproductive stage progression, and flower and pod development and abortion over the course of multiple growing season.