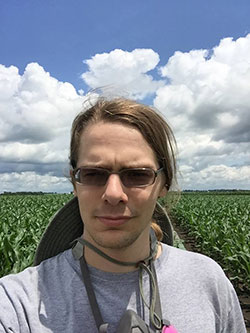 Ph.D Student, Department of Plant Biology
Email: cburrou2@illinois.edu
Education:
Ph.D, Plant Biology, expected 2020
Concentrations: Physiology, Air Pollution, Remote Sensing
University of Illinois at Champaign-Urbana
Certificate, Specialization in Biotechnology, 2014
St. Louis Community College, Florissant, MO 
Bachelor of Arts, Environmental Studies, 2012
Minor: Geology
Oberlin College, Oberlin, OH
Research:
As the human population continues to grow, our food supply will need to keep pace. This rise in production will take place amidst intensified stress from our environment. Ozone in particular is the most damaging air pollutant to crop plants. Concentrations of ground level ozone have more than doubled since the industrial revolution. Ozone stress reduces yield and primary productivity and has caused an estimated $7.2 billion loss per year in maize yields.
My research examines the physiological effects of elevated ozone on maize.