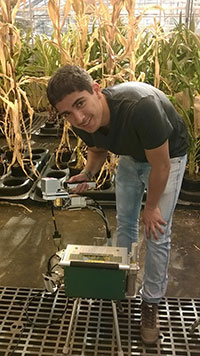 Tiago Tomaz, Fulbright Scholar, Institute for Genomic Biology
Email: ttomaz@illinois.edu; tiago_t@iinet.net.au
Education:
Ph.D, Plant Biochemistry                 2012
University of Western Australia, Crawley
Dissertation title: Mitochondrial Control of REDOX Balance in the Arabidopsis Leaf: Insights gained from manipulation of the TCA Cycle and Ascorbate biosynthesis pathway
Graduate Certificate, Research Commercialization                      2010
Queensland University of Technology, Brisbane
Majors: Knowledge Transfer and Research Commercialization, Entrepreneurial Foundations, Management of Research Careers, Intellectual Property
Bachelor of Science (Hons), Plant Biochemistry and Molecular Biology                       2008
University of Western Australia, Crawley
Thesis title: Analysing impacts of the mutation of NDUFS4: a subunit of the mitochondrial respiratory chain Complex I in the plant model Arabidopsis thaliana
Bachelor of Science, Biochemistry, Pharmacology                        2007
University of Western Australia, Crawley
Research:
            I am a plant biochemist and aspiring physiologist, with a long standing interest in photosynthetic metabolism and plant energy use efficiency. Much of my research to date has focussed on characterising the molecular and physiological interactions between photosynthesis and respiration in the context of responses to changing climactic conditions, using the model species Arabidopsis thaliana. I have built upon the knowledge and techniques I have learnt from controlled environment studies by applying these outside the laboratory, in large field trials looking to benchmark the photosynthetic and respiratory performance of commercial Australian varieties of Triticum aestivum in response to chilling and drought events. I am now looking to gain experience in the use of high throughput technologies to quantify agronomic traits in field crop research, which has led me to the University of Illinois and the research teams of Drs Andrew Leakey and Lisa Ainsworth. I am an active participant on the maize ozone project, which you can read more about at http://maizeo3face.illinois.edu/.
Publications:
Meyer EH, Tomaz T, Carroll AJ, Estavillo G, Delannoy E, Tanz, SK, Small ID, Pogson BJ, Millar AH (2009) Remodeled Respiration in ndufs4 with Low Phosphorylation Efficiency Suppresses Arabidopsis Germination and Growth and Alters Control of Metabolism at Night. Plant Physiology 151: 603-619 
Tomaz T, Bagard M, Pracharoenwattana I, Linden P, Lee CP, Carroll AJ, Ströher E, Smith SM, Gardeström P, Millar AH (2010) Mitochondrial Malate Dehydrogenase Lowers Leaf Respiration and Alters Photorespiration and Plant Growth in Arabidopsis. Plant Physiology 154: 1143-1157 
Tomaz T (2012) Mitochondrial Control of Global REDOX Balance in Arabidopsis: Insights Gained from Manipulation of the TCA Cycle and Ascorbate Biosynthesis Pathway. (Doctoral dissertation, University of Western Australia)
Taylor NL, Fenske R, Castleden I, Tomaz T, Nelson CJ, Millar AH (2013) Selected Reaction Monitoring (SRM) to determine protein abundance in Arabidopsis using the Arabidopsis Proteotypic Predictor (APP). Plant Physiology pp-113.
Tomaz T, Ströher E, Millar AH (2014) Assessing the role of foliar ascorbate content and redox poise in respiratory and photosynthetic performance. Submitted to New Phytologist
Presentations:
Talks
Tomaz T, Meyer EH, Millar AH (2008) Investigating the involvement of plant mitochondria in the regulation of foliar ascorbate levels. Faculty of Life and Physical Sciences Seminar Series, The University of Western Australia, 13 March 2008
Tomaz T, Ströher E, Millar AH (2009) Analysing mitochondrial involvement in the regulation of foliar Vitamin C levels. ARC Centre of Excellence Plant Energy Biology Annual Retreat, Murramarang, 25 – 27 November 2009
Tomaz T, Bagard M, Ströher E, Gardeström P, Millar AH (2010) Characterising the function of mitochondrial malate dehydrogenase (mMDH) in Arabidopsis. ARC Centre of Excellence Plant Energy Biology Annual Retreat, Tradewinds Hotel Fremantle, 20 – 22 April 2010
Tomaz T, Millar AH (2012) Examining the role of foliar ascorbate in REDOX balancing between the mitochondrion and the chloroplast. ARC Centre of Excellence Plant Energy Biology Annual Retreat, Esplanade Hotel Fremantle, May 30 – April 2 2012 
Posters
Tomaz T, Meyer EH, Millar AH (2008) Dissecting the contribution of the mitochondrion to abiotic stress tolerance in Arabidopsis. Combio Satellite Symposium Boden Conference: Plant Energy and Water Productivity: from genes to environment.  The Australian National University, Canberra, 18 – 20 September 2008 
Tomaz T, Millar AH (2009) Mitochondrial malate dehydrogenase, a major player in respiratory control and maintenance of cellular REDOX status in Arabidopsis. Combined Biological Sciences Meeting (CBSM). The University of Western Australia, Perth, 28 August 2009
Tomaz T, Bagard M, Ströher E, Millar AH (2011) Mitochondrial control of foliar ascorbate levels in Arabidopsis: "boosting" Vitamin C via targeted disruption of respiratory enzymes. ARC Centre of Excellence Plant Energy Biology Annual Retreat, Rendezvous Scarborough, 11 – 13 April 2011
Tomaz T, Bagard M, Ströher E, Millar AH (2011) Exploring the mitochondrial and extra-mitochondrial effects of targeted TCA cycle disruption. American Society for Plant Biology Annual Meeting,  Minneapolis, MN, USA  6 – 10 August 2011
Tomaz T, Waters I, Al-Yaseri G, Setter T, Biddulph TB (2013) Developing an NIRS calibration for the rapid determination of water soluble carbohydrate content in field grown wheat. InterDrought IV 2013, Crown Perth, 2-6 September 2013
Workshops Attended:
Plant Phenomics Workshop: Techniques for Molecular Biology and Ecophysiology. Canberra 9 – 12 February 2009           
InterDrought IV Master Class 'Adaptation to Drought' (GRDC sponsored WA young scientist) : International Centre for Plant Breeding Education and Research, The University of Western Australia,  Murdoch University (MU),Department of Agriculture and Food WA (DAFWA) 27-31 August 2013