Ort awarded Jalal Aliyev Lecture Scholarship
---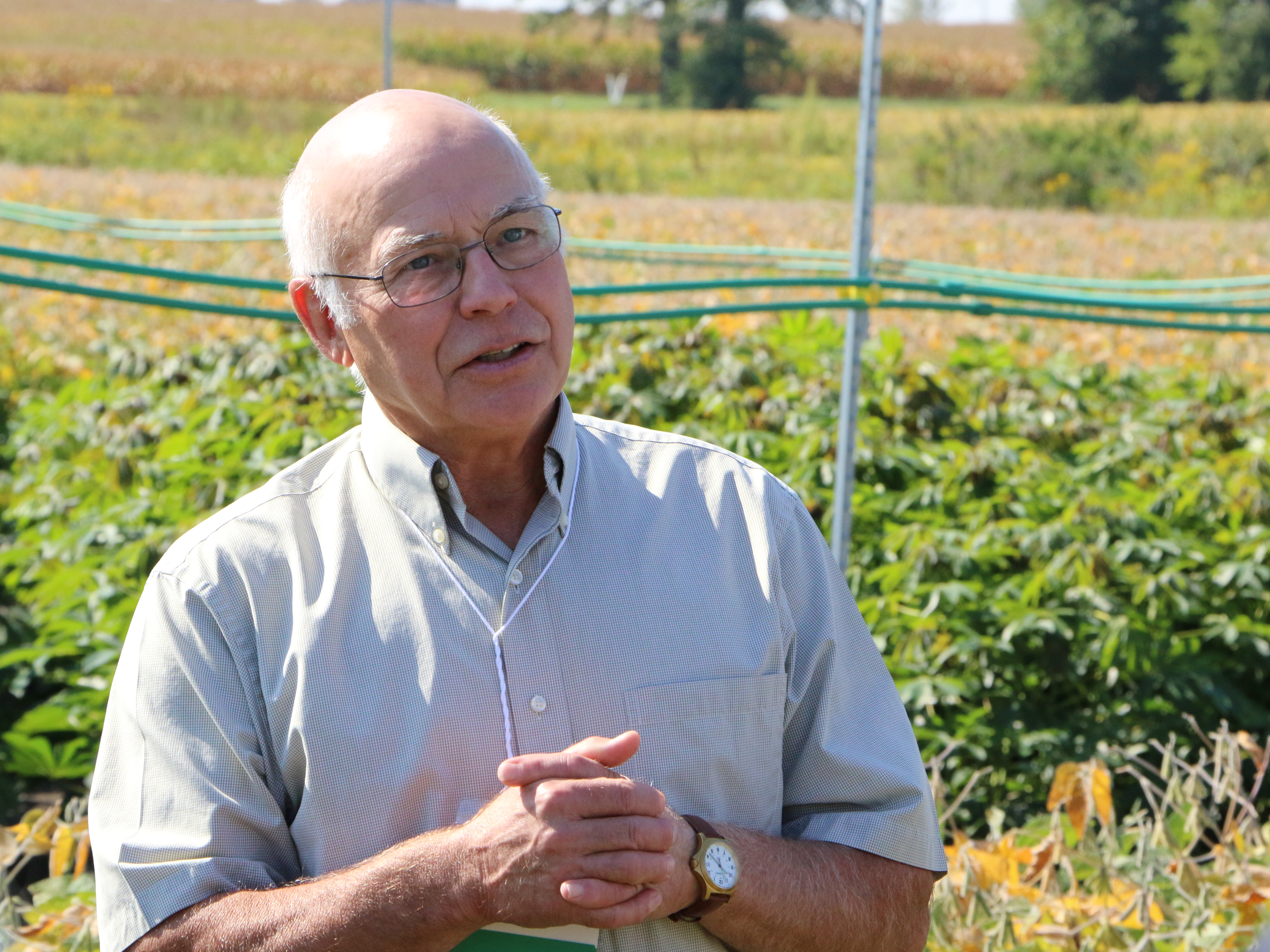 At the recent International Congress on Photosynthesis, RIPE Deputy Director Don Ort was honored with the Jalal Aliyev Lecture Scholarship from the International Society of Photosynthesis Research. The award annually recognizes a scientist who has made extraordinary achievements in photosynthesis research, particularly in the area of basic and applied environmental and ecological aspects of photosynthesis.
"It is hard to think of someone more fitting for this award," said RIPE Director Stephen Long, Ikenberry Endowed University Chair of Crop Sciences and Plant Biology at Illinois' Carl R. Woese Institute for Genomic Biology. "Don has made major contributions to both fundamental aspects of our understanding of photosynthesis, particularly with respect to temperature. His recent applied work with photorespiratory bypasses also gives us a key adaptation to rising global temperatures and potential for much-needed yield increases in the tropics."
The Jalal Aliyev Lecture Scholarship celebrates Professor Jalal Aliyev, a pioneer in photosynthesis research in Azerbaijan and his contributions to the field. The scholarship awards $2,500 to the successful applicant thanks to a generous donation from the Aliyev family. Ort was nominated by Bob Blankenship, Professor Emeritus at Washington University, and Govindjee, Professor Emeritus at Illinois.
"Don's work on bypassing photorespiration is an excellent example of photosynthesis research that is both basic and applied," said Blankenship and Govindjee when asked why they nominated Ort. "He is an outstanding researcher, who is both imaginative and meticulous in his approach to science. He was the ideal person to receive this award and we are delighted that the ISPR selection committee agreed."
Ort is the Robert Emerson Professor in Plant Biology and Crop Sciences at the University of Illinois Urbana-Champaign. As part of the scholarship, he was invited to give The Jala Aliyev Award Lecture as part of the final session of the Congress. Ort chose to present information he is personally excited about, his group's most recently published work about the photorespiratory bypass, "Mitigating the Impact of a Warming Climate on Photosynthetic Carbon Gain with an Alternative Photorespiratory Pathway."
"Receiving the scholarship came as a very nice surprise," said Ort. "I was especially pleased to have been nominated by two valued colleagues and friends.
The Realizing Increased Photosynthetic Efficiency (RIPE) project is an international research project that aims to increase global food production by developing food crops that turn the sun's energy into food more efficiently with support from the Bill & Melinda Gates Foundation, Foundation for Food & Agriculture Research, and U.K. Foreign, Commonwealth & Development Office.
Other RIPE presenters at the Photosynthesis Congress included RIPE Director Steve Long (Illinois); RIPE Deputy Director Lisa Ainsworth (Illinois); Executive Committee Members Susanne von Caemmerer (Australian National University), Elizabete Carmo-Silva (Lancaster University), Christine Raines (University of Essex), Kris Niyogi (University of California, Berkeley), and Xinguang Zhu Center of Excellence for Molecular Plant Sciences (CEMPS), (Chinese Academy of Sciences) ; postdoctoral researcher Julia Walter (University of Cambridge); Senior Research Associate Sam Taylor (Lancaster); and graduate student Nina Maryn (Berkeley).
---
By: Allie Arp || RIPE Communications Manager