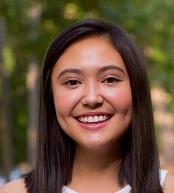 PEEC
BS Biology, University of North Carolina at Chapel Hill, 2019
Grace studies C4 grasses, particularly setaria and sorghum.  In sorghum Grace is doing a transcriptomic analysis of accessions with natural variation in stomatal density in order to better understand the genetics of epidermal patterning in sorghum.  She is also studying transgenic sorghum to determine the effect of manipulation of stomatal genes on leaf level photosynthesis and water-use efficiency and developing computer vision tools to automatically phenotype microscopic images of the setaria epidermis.  
Research Interests:  Physiology, Phentoyping, Sustainability and Science communication
Personal Interests:  Dog Lover, Musical Theatre and Extrovert - she is also passionate about science communication, outreach and education!  In the future, she hopes to work at the intersection of the scientific and non-scientific communities.